Do you ever feel like everything you do just doesn't feel right? Even the way you feel doesn't feel right?
I've started 3 separate posts today. Begun 4 or 5 different tasks that I haven't completed and have, in the non-literal sense of the word, been walking in circles.
Sometimes when I'm walking in circles I sit at my computer and stumble onto random websites and blogs just to see what gets sparked by them. Stumbleupon.com is a great website because it will take you to sites you would otherwise never find. And often I find myself staring at exactly what I need just to get going.
Here is what I found on a really cool site called Artist. Mother. Teacher (
http://artistmotherteacher.com/
)
The writer on this blog/website is really insightful and I enjoyed looking through her posts. This one in particular was exactly what I needed today: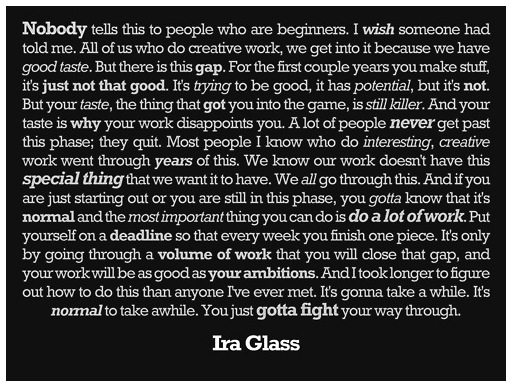 As an artist, a writer, and a creator in general, I have bad days! The worst days are the ones like today when all I want to do is create and be inspired and everything that comes out feels wrong and contrived. This happens to me with art but even more it happens when I'm writing. But just as this quote says you just have to push through and accept that not everything is going to be your best. It's ok that not every post is perfect. That not every post has the right piece of art and that not every post sheds light on some sort of epiphany.
My epiphany today is that I don't need one in order to write! I can be happy just writing, connecting with readers and sharing some thoughts. Is it better to wait a week for the perfect post or share some love in between?
This post is to take the pressure off. By being honest with you all and saying "today...I'm in a funk!" I feel this immense load lifted off my chest. I hope this little tid bit helps anyone else who is feeling pressure to be a little more than who they are. We are who we are. We do what we can do. Some outcomes will be great and extraordinary. Others will be just whatever they are in that moment, maybe even what one would consider to be ordinary. But it all ultimately comes from our hearts and that's what matters in the end.
I promise you that my words come from a place of love today even if there's not a whole lot to say. I hope Ira Glass's quote helps someone else today the way that it helped me. Feel free to pass it along to whomever you choose!
BPositive and BOk with What Your Have to Offer Today!
Love always,
B